Play Yahtzee Online
Sponsored post


Yahtzee is one of those evergreen games that never really seems to age or go away. Maybe this is because it attracts all kinds of people from all kinds of countries for all kinds of reasons. Some people play to bring back childhood memories; some play because the game is quick and simple to learn, pick up, play and complete a game; others play because they are fascinated by the statistical challenge it represents and some play to stay in touch with their friends and family from across the oceans.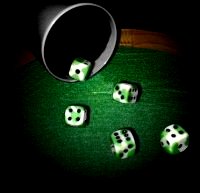 Hi, my name is Kal. I am an admin at freetehdice.com and I would like to invite you to come over to our website to play yahtzee. First, let me tell you a little about the site.
We have a fairly small community of players who log in and play games every day (or sometimes just log in to chat) and join in with the community chat room (ames Hall). The site is moderated by myself and another administrator, which helps us to maintain a calm, happy atmosphere.
Anybody can set up games for up to 7 others to join and every day we have several tournaments that are entirely automated.
In addition to regular yahtzee we also have many alternative rule sets that were written by the players, such as bowling, NASCAR, cricket, volleyball, sequence... well, you'll have to find them all out for yourself.
So, if that's what you're looking for, head over to register for free and play yahtzee online at freethedice.com now. I hope to see you there!